How NOT to Ask For a Guest Blog Post
As you probably know, I often recommend writing guest blog posts and other forms of partnering as the fastest way of getting in front of your target audience, driving traffic to your website and building authority in the search engines.
Successful guest blogging has three key components.
Obviously you need to be able to write decent blog posts efficiently.
You also need to be able to find the right places to guest post. I created a little video to show the steps for that here >>
The final component is critical. You need to be able to get blog owners to agree to you doing a guest blog post for them. There's a real art to this.

As you can imagine, running a popular blog I get asked to publish guest posts quite frequently. Sometimes the emails I get are truly shocking. Ones that stand no chance of persuading me to publish their material.
Here's one I got tonight. It's nowhere near the worst I've had, but it does illustrate some key points.
Names redacted to protect the guilty, of course.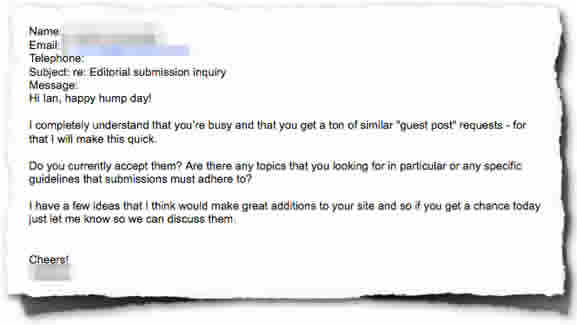 So what did this person do wrong?
Well she started off OK. Respecting that I'm busy (one common characteristic of blog owners likely to grant you a guest post is that they're busy. That's why they're interested in guest posts).
But then it beings to go wrong.
Why ask if I accept guest posts? A simple scan of my site will show I've accepted guest posts quite frequently.
And asking me if there are any topics I'd like guest posts on – big no no.
You've already recognised I'm busy. So why ask me to do all the work here by coming up with ideas for you?
Look at my site. You can see what sort of topics are covered. You can figure out for yourself which ones seem to be popular (most comments or look at the "popular posts" in the sidebar).
By asking those two questions you're also sending me two messages.
1. You haven't bothered to read my blog.
2. You're not a specialist or expert in anything. There's no way anyone could be an expert in any potential topic I might come back with.
That doesn't send the right signals.
Yes, busy bloggers appreciate guest blog posts that save them writing their own. But our first responsibility is to our readers. We can't let them down with poor quality content.
When you're asking to do a guest blog post, here's what you've got to do:
Show me you've done your homework on my blog
You do the work of suggesting a topic – don't make me work hard to do you a favour
Pick a topic that you know fits my audience, but that is complementary to what I've already published
Tell me the proposed headline – and make it match the sort of headlines that seem to work well on my site
And ideally, give me some links to your previous writing so I know it'll be high quality
Margaret Adams who did a guest post for me on Creating a Lead Magnet hit the right buttons when she emailed me.
She began with "I'm a regular reader of your blog and I've noticed that occasionally you accept guest posts, provided they are relevant to your readers' concerns".
And followed up with "Do you think your readers would be interested in reading a post about creating a lead magnet? The idea fits in with one of your principal themes, that of attracting the right people to you and then offering them valuable content to help to build and nurture the business relationship.
Post Title: Online Lead Generation – Creating The Right Lead Magnet"
She showed she'd done her homework. She correctly found a topic that would work for my audience and she explained why she thought that was so. Then she gave me a decent headline for it.
She followed up in the email with bullet points describing what would go into the article.
Great. I said yes straight away.
And that's what you want to do to. Make it easy for people to accept your guest blog posts.
Ian Brodie
https://www.ianbrodie.com
Ian Brodie teaches consultants, coaches and other professionals to attract and win the clients they need using "Value-Based Marketing" - an approach to marketing based around delivering value, demonstrating your capabilities and earning trust through your marketing.