Conversion Optimization: Derek Halpern Reviews ianbrodie.com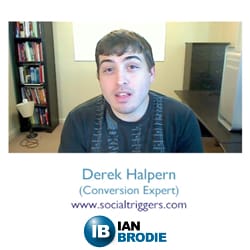 In my last post on Winning Business with your Blog, I talked about the importance of converting website visitors to email subscribers.
Once you have permission to keep in touch, you can build credibility and trust with your potential clients over time. It's THE most powerful way to win clients online for consultants and coaches.
For such an important topic, I thought it was time to wheel in the "big guns".
And while I like to think I'm pretty hot on online marketing for consultants and coaches – when it comes to conversion optimization, there's one guy all the "superstars" call.
Derek Halpern of Social Triggers has done website reviews for folks like social media legend Chris Brogan and internet marketing superstars David Risley and Pat Flynn. So I thought it was high time he did one for little old me.
In this video, Derek will reveal some of his "underground" strategies for getting people to opt in to your mailing list. I've been doing this stuff for years and thought I'd seen it all, but a couple of the things Derek talked about were completely new for me.
And, of course, the idea is not just to see how my site can be improved – but to apply those ideas to your own site. Both the things I'm doing well, and the areas where I could do better.
Enjoy…
http://www.youtube.com/watch?v=l33dt6-Nh00
If you'd like to get access to Derek's private newsletter where he shares more detailed tips on improving the conversion of your website – then head over to:
http://www.socialtriggers.com/ib
The next article looks at the next step: how to convert subscribers into paying clients.
Ian Brodie
https://www.ianbrodie.com
Ian Brodie teaches consultants, coaches and other professionals to attract and win the clients they need using "Value-Based Marketing" - an approach to marketing based around delivering value, demonstrating your capabilities and earning trust through your marketing.